The MAN SAFE Series
Watch Safes
You've worked hard to earn what you have, now it's time to make sure you keep it. These high-security watch safes guarantee your valuables are right where you intend them to be at all times.
The MAN SAFE by Brown Safe Manufacturing draws on the excellent engineering and craftsmanship gained from building high-security safes and vaults for the public and military for over 30 years, but with one big difference – This highly flexible safe for watches was fashioned from the ground up to accommodate and enrich the multi-faceted needs of the modern man.
Available in 6 standard sizes and multiple interior configurations, or in any custom size and interior to fit your individual need.
CUSTOM-BUILT FOR YOU
and designed to enhance a life well lived.
Finally, a high-security safe for watches that was designed specifically to make the items you've worked hard to obtain easier to secure, access, and enjoy.
Given Brown Safe's long-standing reputation for building the highest security safes for the government, military, research facilities and tech leaders, The MAN SAFE is the top choice for those seeking a convenient and secure watch and jewelry storage solution.
Furnished with all the features for fine living.
The Man Safe satisfies more than security needs, this watch winder safe offers the organization needed to streamline the life of a busy professional. Giving the modern man the convenience of accessing all their important items in one secure spot.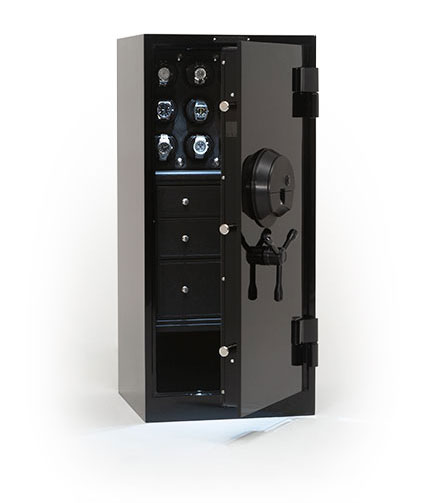 OPTIMIZED FOR YOUR LIFE
As the pace of life seems to constantly increase with every passing day, that which helps to optimize our lives becomes a welcome benefit.
The MAN SAFE reinvents what a safe can be, and more importantly… how you can make use of it.
The MAN SAFE is your hub – it's where you securely store daily necessities like car keys, wallet, and phone; as well as important items that aren't accessed daily but always need to be at the ready, like passports, precious metals, family heirlooms, and important documents.
By equipping the safe with cutting-edge features that streamline its use, coupled with the thoughtful inclusion of luxurious materials, the MAN SAFE functions as beautifully as it looks.

Watch Safes Designed to Perform
The MAN SAFE features custom made watch panels housing Orbita watch winders to display timepiece collections and keep fine watches functioning flawlessly at all times.
Orbita® automatic watch winders are known for uncompromising quality and reliability. Their winding technology is recognized and acknowledged by both watch manufacturers and watch collectors all over the world.
WITH THE MAN SAFE YOU CAN CHOOSE THE ORBITA WINDER TYPE THAT BEST SUITS THE NEED OF YOUR FINE TIMEPIECES.
ROTORWIND WINDERS *Standard watch winder option:
This winder is designed to swing the watch, instead of rotating it, to mimic the natural action of the wrist. At either 8 or 12 minute intervals, Rotorwind modules make one single revolution which triggers a series of oscillations that gently swing the watch back and forth.
PROGRAMMABLE WINDERS *Optional Upgrade:
We know not all your watches have the same winding needs.  With Orbita Programmable watch winders, a sophisticated microprocessor controls the watch winder cycles; and your choice of clockwise, counter-clockwise rotation, or automatic reversing when desired.
Set The Optimal Turns Per Day (TPD) For Individual Watches:
650          800          950          1,300          1,600
TPD         TPD         TPD           TPD            TPD
With pause intervals of 31, 25, 21, 15, and 12 minutes respectively. To determine the winding requirements of your particular watch, please visit the Orbita Database.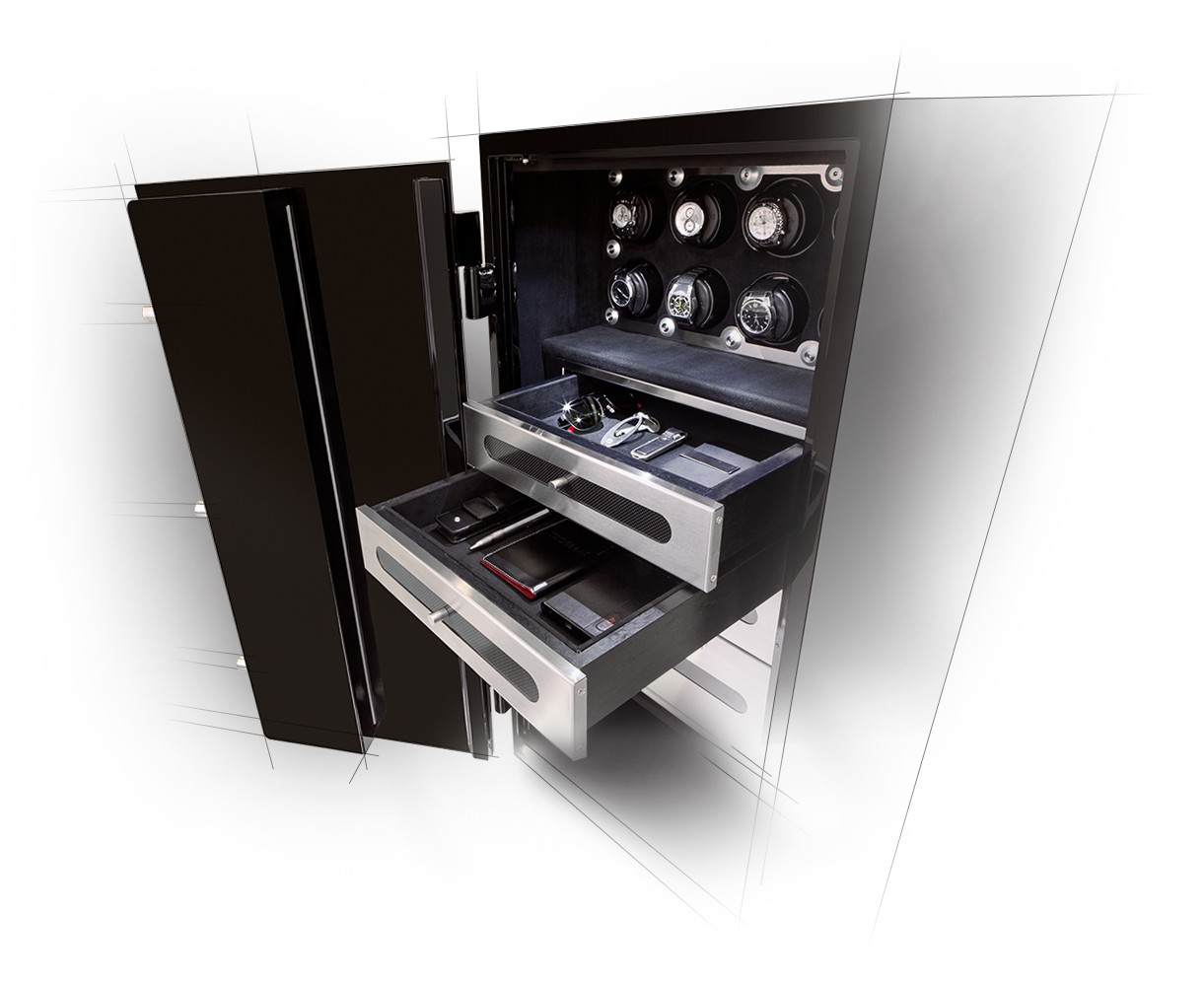 Style Unparalleled,
                        Security Unrivaled
Dependable security is at the core of every safe produced by Brown Safe, and the MAN SAFE draws on this rich heritage of engineering the best of the best. The base level of protection offered in the MAN SAFE exceeds that of industry standards, because we believe that's what our clients deserve.
½" solid steel door
¼" inch thick solid steel body construction
Flush door frame design with overbuilt spread resistant door frame
1″ laminated, interlocked & double-welded door jamb
U. L. approved high security Group 2 electronic push button lock
Ball bearing hard plate
Double anchor locking bolt carriage design
1″ thick hardened chrome locking bolts with anti-drive resistance
Five active and passive relocking devices
Four 5/8″ base anchor holes
And for those clients who want the absolute ultimate in available security – we've got you covered….in military-grade ballistic armor plating.
With the MAN SAFE Elite edition, protection and performance are taken to new heights. This upgraded model receives additional high security features.
The body and door of this advanced model is made completely from military-grade ballistic armor plate. A material that far exceeds the penetration resistance of the toughest hardplates ever tested, at only a fraction of the thickness.
Typically, a safe rivaling this level of security would require three times the amount of steel, the excessive weight of which often limits them to ground floor installations. By developing innovative construction techniques, coupled with advancements in technology, we have pioneered the ability to use ballistic armor to gain an exponential degree of security at a minimal increase in weight. The result of which is a high security safe with a protection level that exceeds the current U. L. rating system and can be installed virtually anywhere you desire.
Includes all the features of the standard MAN SAFE plus the following:
1/2 inch Ballistic Armor door
1/4 inch Ballistic Armor body construction
Glass plate relocking device
Chip carbide hard plate
Three way bolt work with anti-drive and stainless door cover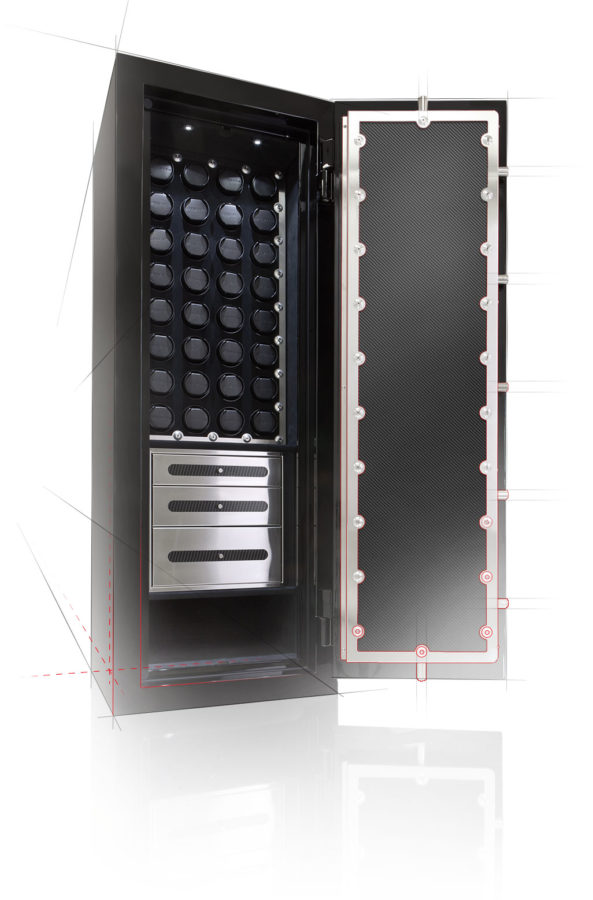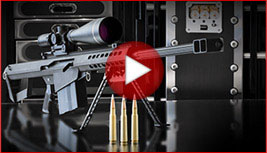 Ballistic Armor
Ballistic Armor plate is by far the strongest material we've tested. Material so strong that firing multiple .50 caliber bullets directly into the MAN SAFE results in nothing more than removing the paint. Aside from the missing paint, the safe shows little to no visible indentation, a feat no other known safe is capable of achieving, and a testament to the incredible strength of these safes.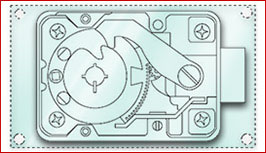 Glass Plate Relockers
With this advanced security feature a tempered glass plate is positioned between the lock and the safe door. Any attempt to penetrate the door to access the lock will shatter the sensitive glass panel and release numerous hardened re-locker pins positioned at key locations throughout the safe's bolt work. Once triggered, the pins prevent the safe from opening until every pin has been identified, drilled, and extracted… an insurmountable task given a thief's limiting time constraints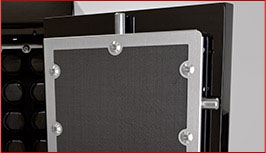 Three-Way Boltwork
Hardened 1″ diameter locking bolts are added to both the upper and lower portion of the door to further strengthen its ability to resist attack. With three-way boltwork the MAN SAFE denies any attempt to wedge or pry the door open. These robust bolts also gain an improved dynamic anti-drive design that makes it unfeasible to force any bolt open through mechanical or hydraulic means.
REVOLUTIONARY FIRE RESISTANCE
Here at Brown Safe we developed a proven design to protect your valuables during a fire.
Through a complete re-examination of construction methods and materials we have developed an extraordinarily effective means of shielding the contents within the safe from fire.
Once the safe has been built with the desired level of burglary protection, it undergoes our proprietary fire cladding process. The walls of the MAN SAFE are encased within 2½" of poured composite material comprised of a high-pressure concrete based mixture and the door of the safe receives a 2″ layer of composite material.
The safe will keep contents below paper flash point (350° F, 177° C) for 1 ½ hours at temperatures up to 1700°F (927° C).
High density composite material add increased burglary protection.
Ball and roller bearing hinges are added to better accommodate the added mass, resulting in an exceptionally fortified door with smooth operation.
We offer the best fire protection in the industry! That's a bold claim, we know, but we stand behind it.