Gun Safes
Engineered to enhance your effectiveness.
The Tactical Series of high-security gun safes have been designed to offer you the greatest flexibility for storing and organizing all of your firearms and gear.
Brown Safe Mfg. has a long standing reputation for building the most secure safes on the planet. Our safes and vault doors are trusted by the US government and proven to perform in military installations around the globe. With the Tactical Series gun safe you get the very same military-grade security AND the option to add the most advanced features of any weapon safe on the market today.

Always Prepared. Always Protected.
Imagine having all of your equipment organized exactly as you need it. No need to think about what gear is required for the job. It's all right where you expect, EVERY TIME.
Strategic Use of Space
Our unique door storage system brings important gear out of the hard to reach recesses of the safe and places it right at your fingertips.

Everything in its Place
When each piece of equipment has a place, then time spent searching for critical components is reduced. The result is the ability to take full advantage of your training and muscle memory so you can stay focused on the objective.

Visual Trigger
Having each gun and piece of gear visually accessible means you're less likely to forget it during crucial scenarios.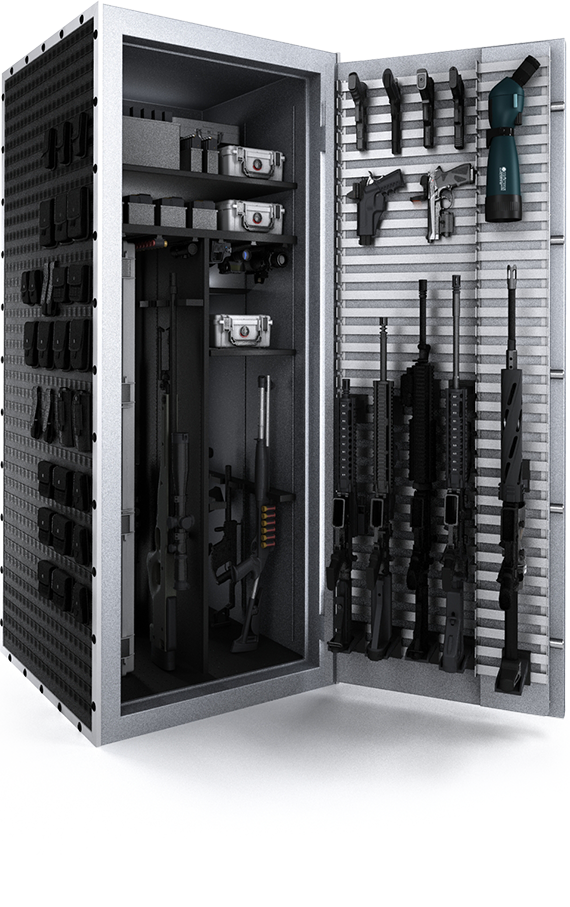 Mission Specific Storage.
The Tactical Series takes a new approach to weapons storage.
Adaptable features and modular layouts make it simple to configure our gun safes for your individual collection or even specific objectives.
All of your gear for home defense, competition, or hunting can be organized together in one place and at the ready when you need it most.
High Security To Start
Hardened solid steel construction is at the core of every Tactical Series Gun Safe.
Our gun safes are constructed with a minimum of ¼" thick walls and a ½" thick door of solid steal. Continuous welded seams, reinforced jamb bars, UL approved commercial-grade locks, and advanced security counter-measures are just a few of the standard features that put the Tactical Series way ahead of the pack.
Optional fire protection cladding or full military-grade ballistic armor construction can also be added for extreme security to withstand the toughest demands.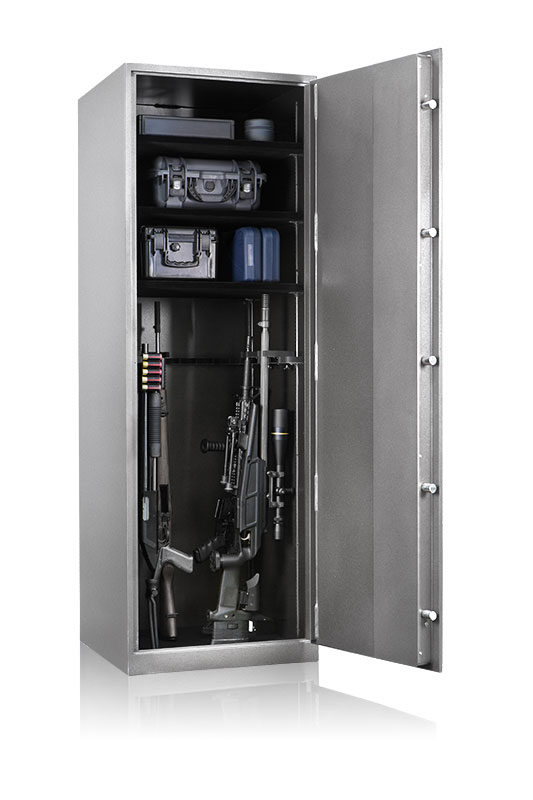 Configure For Your Collection.
Select from multiple gun safe sizes, interior configurations, and protection levels to accommodate your specific needs. Each one is then outfitted with only the convenience and storage options of your choosing. You can opt to go as minimal or as tricked out as you want, but you'll never have to pay for features that don't meet your demands.