THE GEM SERIES
Luxury Jewelry Safes
The Gem Series is the most popular line of jewelry safes on the market today. These high-security jewelry safes combine handcrafted jewelry chests with superior mechanical engineering to create the perfect solution to keep your jewelry organized and protected.
The most convenient and secure jewelry storage solution for those seeking only the very best of the best.
Given Brown Safe's 35 year history as the leading US manufacturer of high-security safes, and our worldwide reputation for handcrafted quality, a Gem jewelry safe is the ideal solution for organizing and protecting your jewelry collection and valuables.
Only the Gem Series by Brown Safe brings you the beauty and luxurious features worthy of your jewelry collection.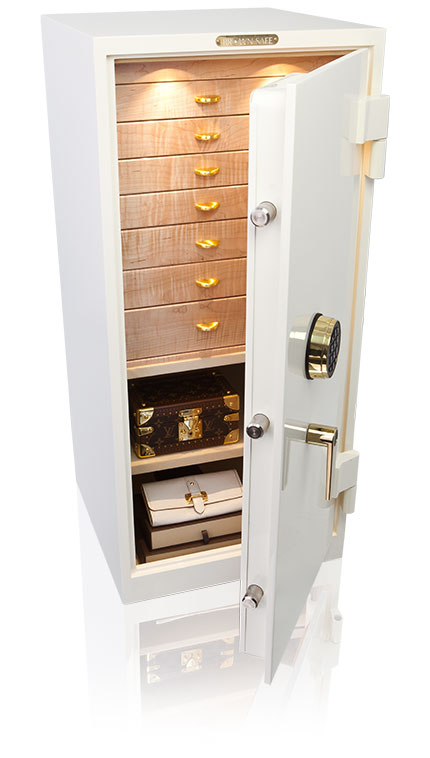 Innovative features ensure your Gem Jewelry Safe is both efficient and an asset to your lifestyle.
The Gem Series offerings include multiple smartly designed interior features to store and protect all that you cherish most.
In addition to hand-crafted jewelry chests with soft Ultrasuede lined interiors, we offer automatic LED interior lighting, fingerprint reading entries, customized interiors, and other luxurious features to enhance organization, convenience, and the enjoyment of your jewelry.
HARDWOOD JEWELRY CHEST AND OPTIONAL NECKLACE RACK
Conveniently nestled alongside the jewelry safe's bolt housing, this luxurious necklace rack accents the existing hardwood while making ideal use of free space.
DOOR MOUNTED INTERIOR MIRROR
For this option an elegant mirror is securely attached to the interior of the jewelry safe's door, conveniently providing instant feedback while trying on your jewelry collection.
AUTOMATIC WATCH WINDERS
All Gem Jewelry Safes can be fitted with watchwinders so your mechanical watches can be kept secure and ready to wear at a moment's notice.
Orbita® automatic watch winders are known for uncompromising quality and reliability. Their winding technology is recognized and acknowledged by both watch manufacturers and watch collectors all over the world.
LED INTERIOR LIGHTING
Produced by Hera for years of trouble-free illumination, these low profile lights cast a soft neutral illumination throughout the jewelry safe interior, enhancing the natural beauty of the hardwood drawers and trim while establishing a vibrant luster for the jewels within.
FABRIC LINED INTERIORS
All interior surfaces and drawers are lined in your choice of luxuriously soft velvet or Ultrasuede.
Custom-built jewelry safes designed to match your lifestyle
…and décor
Your Choice of the Finest Finishes
Crafted from the finest materials & hand-built to exacting specifications
No other jewelry safe delivers the vast array of standard paint finishes, wood types, interior fabric colors, and hardware options.
Designer Drawer Organization
Interchangeable drawer inserts designed to perfectly organize your collection
With the Gem Jewelry Safe all you favorite pieces are in one convenient location, easily accessible all at once, delivering a hassle-free experience while searching for the perfect ensemble.
Peace of mind right at your fingertips
Convenience is a key component to a luxury jewelry safe, and the Gem Series has been designed to incorporate all of the necessary features one would want to securely organize their valuables while maintaining ease of use – including a simple and secure means of gaining entrance.
Three lock types are available with the Gem Series jewelry safes, so the user experience can be further tailored to your individual needs
Leading Luxury Meets Unmatched Security
There's simply no substitute for solid steel.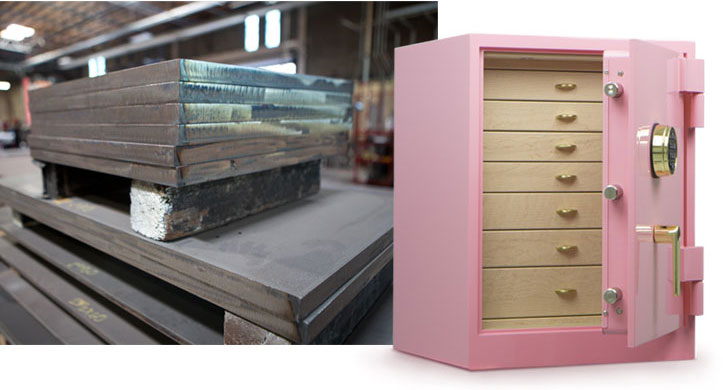 Truly dependable protection tailored to your needs.
The Gem Line of luxury jewelry safes offers the most advanced materials and methods of construction to bring the superior protection only a Brown Safe can deliver.
Gem Series jewelry safes are available in four protection rating levels, offered with or without fire protection, to provide the perfect security solution for your individual needs.
Your Perfect Jewelry Safe is Waiting