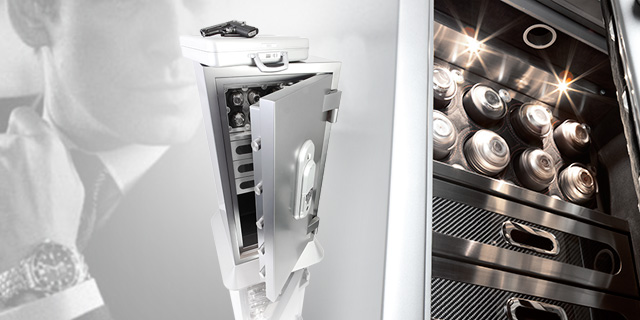 Often, when we think "jewelry safe" there's little to no correlation with "watch safe". Whether it's because we've come to expect seeing them or simply because we think of them more as 'tools' than 'accessories', watches are often overlooked when considering safes. The Chronos Watch Safes are designed specifically to correct that oversight and provide convenience, style,and peace of mind for all collectors; be they newly arrived or seasoned aficionados and horologists.
The once obscure world of watch collecting was forever changed in 1999 when a Patek Philippe supercomplication (a complication being any additional mechanical feature other than timekeeping) was sold for a shocking $11,002,500. Now, with growing the recognition and wide spread popularity of timepiece collection, a watch safe is more vital than ever before.
A watch safe offers more than defense for these surprisingly complex devices. Providing proper storage, your watch safe can help preserve the band of your watch – be it metal, leather, wood, synthetic, or any other material. For watches that don't lay flat when unclasped, it's important to store them in the shape that they're worn in to avoid undue stress that can lead to warping, cracking, and other defects. It's also worth mentioning that proper storage in a watch safe can protect the crystal and finish of your watches from scuffs, scratches, and fractures that can happen when watches inevitably become haphazardly heaped together in a drawer.
Chronos Watch Safes are also outfitted with anywhere from 4 to 36 or more state of the art Orbita® automatic watch winders (depending on the size of the watch safe you choose). Acknowledged and recognized by collectors and manufacturers alike, these small but uncompromisingly reliable machines provide the highest grade of winding technology. Ultimately, your watch safe will help ensure your automatic timepieces continue to steadfastly mark the seconds, minutes, hours, and days even when you're not wearing them; all while keeping them conveniently organized and securely  locked away from prying hands.
Try not to be fooled by the "watch safe" title! Your watch safe also has the ability to provide a convenient and central location for easily misplaced items such as cuff-links, tie clips, fountain pens, and sunglasses. Your watch safe is also an ideal location to keep your protective firearms. It may have specific features to accommodate your watches, but remember that your watch safe can and should help you organize and simplify every day routines.
Regardless of whether you're a vintage or modern collector, or simply someone who enjoys having a few stylish assets for special occasions, a Chronos Watch Safe can contribute to the overall protection, display, and longevity of your watches.