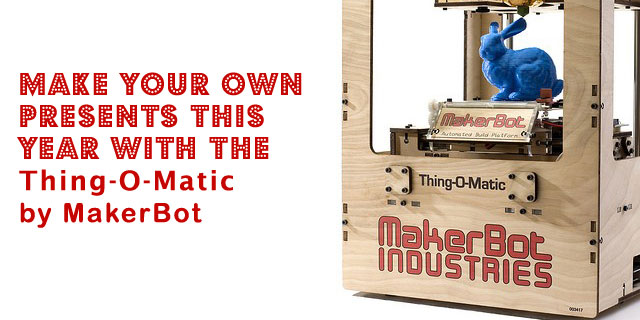 As the holidays are rapidly closing in, many of us are still looking for that perfect last minute gift for the remaining people on our holiday shopping list. But if braving the mall, crowded parking lots, and frantic bustle of the holiday shopping season is a less-than-desirable way to spend your holiday, then what you really need to do is make your own gift….and I don't mean whipping up a few loaves of grandma's famous fruit-cake or knitting something no one wants to wear. Instead consider the Thing-O-Matic  by MakerBot Industries which can make just about anything your imagination can dream up.
The Thing-O-Matic is a 3D printer that uses plastic filament extruded three-dimensionally to build up an object. 3D printing technology has been around for a while already, but most are very specialized unites selling for upward of $20k. MakerBot's Thing-O-Matic is the first consumer grade 3D printer that is both inexpensive and simple to use. This small power-house of personalized manufacturing allows you to design and create just about anything you can think of. Download 3d objects built by others or design your own using a host of programs, including the free and easy to use Google SketchUp. All that's left creating your own specialized masterpieces of extruded plastic with the Thing-O-Matic simply connect the device to your computer via the USB cable, select the file to print, and the "Automated Build Platform" allows you to print objects one after the other.
The MakerBot Thing-O-Matic kit starts at $1,099 and currently has a 4-5 week lead time.