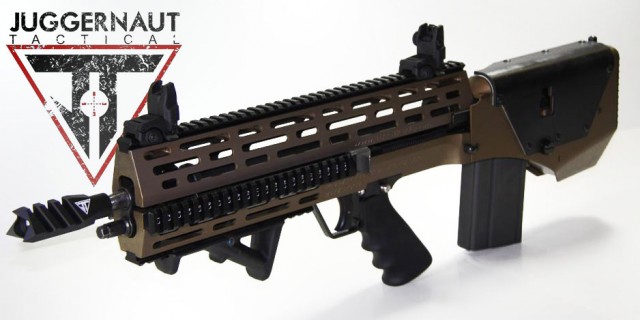 Who doesn't want BIG fire power in a compact package?  We all want to get the maximum benefit out of any given situation no matter the variables, that's why the phrase "the most bang for your buck" is something we can all relate to. It's no different with the defense tools used to keep your family and home safe than with anything else, and that's the basic idea that has led to the Bullpup design.
The thought behind the Bullpup style rifle design is a fairly simple one, by moving the action to the rear of the gun the overall length of the weapon is reduced while reliability is maintained.
Many shooters love the powerful 7.62x51mm round and its effectiveness but the overall length of rifles like the standard M1A chambered for this cartridge can prove unwieldy, especially in tight quarters, when clearing rooms, or any number of scenarios. Add a suppressor to the equation to make up for the loud 7.62x51mm cartridge and now we're looking at operating a rifle that can be about 40 inches long. Juggernaut Tactical has created a solution to this problem for all of you M1A lovers out there. It's the Rogue Chassis System and it drastically shortens the standard M1A platform without losing the 22-inch barrel and maintains the rifles' reliability while enhancing functionality by turning your rifle into a Bullpup design.  The addition of a Rogue stock shortens the operating length by  a full 11 ¾ inches and by moving the rifle action closer to your body the result is a substantially shorter and better balanced weapon. The Rogue chassis by Juggernaut Tactical is machined from billet aluminum and offers plenty of real estate to mount optics, lights, and other accessories. Choose from finishes in hard anodized matte black or flat dark earth, or if you're the flashy type who likes to blind the bad guys you can opt for a custom chrome chassis.
Visit the Juggernaut Tactical website to learn more about their Bullpup style M14/M1A Rogue Chassis System