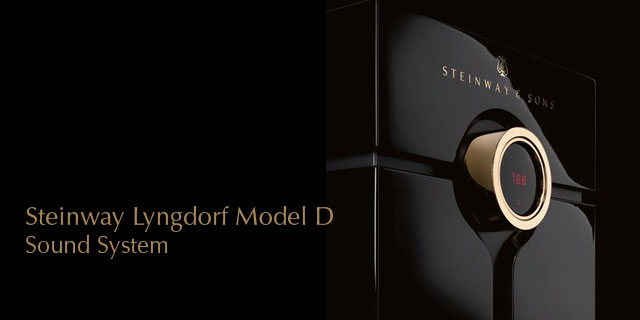 The legendary piano manufacturers Steinway & Sons and audio guru Peter Lyngdorf have combined efforts and know-how to create the much anticipated Steinway Lyngdorf Model D all-in-one music system. This innovative fully digital sound system is designed to give the absolute best sound reproduction for the true audiophile. Combining the impeccable craftsmanship synonymous with Steinway & Sons' much sought after pianos and the innovative audio engineering of Mr. Lyngdorf, the Steinway Lyngdorf Model D represents the best of the best in home sound.
This sound system aims to reproduce the music it plays precisely as intended by the artists and engineers that created it and gives the listener the true and full sound spectrum. This goal is reached in part thanks to the twin dipole speakers which are assembled by hand and take roughly eight weeks to complete. The Fully Digital Amplification of the unit handles 100% of the signal processing and means there is absolutely no negative feedback, instead only emitting the most precise sound available.
Quite possibly the most innovative and unique feature of the Steinway Lyngdorf Model D is their patented system of room adaptation technology known as RoomPerfect. With RoomPerfect Steinway Lyngdorf adapts the sound system to the space in which it resides, as opposed to physically altering the room to maximize sound quality. The technology uses 3-dimensional measuring and target response calculation to optimize acoustic performance for the specific space. Two different settings allow the system to be tuned to a master seat for the supreme single listening experience or a global setting which calculates audio quality most conducive to a whole room listening experience for a group or home theater application.
The high-quality and attention to detail is evident in the innovative technology and superior functionality of the Steinway Lyngdorf Model D, as well as the design and appearance as well. The syustme is available in a vast selection of wood and color finishes beyond the iconic Steinway black laquer finish, and can be outfitted with either gold or chrome accents.
The Model D sound system starts at $158,900
For all of the details and more information visit the Steinway Lyngdorf Model D website