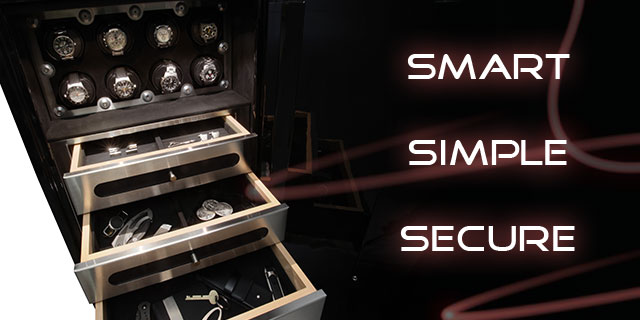 Securing your space is all about being proactive. All too often products and systems go unused because they are simply too difficult to routinely use. Here at the Labs we're always on the lookout for new technology to help add some security to your space – and we love when they are intuitive and simple enough to actually get used. Check out these latest products and find out how to make your live a little safer.
Home Security made simple

Traditional home security systems are an excellent first line of defense, but they can also be very expensive, have limited functionality, and difficult to use (which often means they don't). There's a new player in the home security space and they're aiming to fill the void that the standard home security players have left gaping. Scout is a next-generation home security system that combines cutting-edge hardware design with intuitive, easy-to-use controls. Motion sensors and open/close sensors relay information back to a base station hub connected to your home internet router so that you can configure your entire security system through your smartphone or computer. These wireless sensors boast a modern design aesthetic and a push-and-stick instillation that makes setup a breeze. Arm or disarm your system from anywhere in the world using your smartphone, tablet, or computer. If anything is out of the ordinary the Scout mobile app sends live info and allows for real-time monitoring.
Don't get the door

Ever wonder who's at the door but don't want to give yourself away by sneaking up to the peephole? Or want a convenient way to monitor your front door while you're away? DoorBot is an innovative solution that combines a Wi-Fi  camera and microphone with a doorbell to relay information directly to your smartphone or tablet. When you have a visitor at your door you'll be able to view a live video stream, hear them, and even respond.
Night Vision


Many intruders use the cover of darkness to aid them in their dastardly deeds for one very simple reason – It's dang hard to see them. Automatic flood lights and other devices can help shed some light on the subjects, but smart burglars have ways around those. So, what you really need is the ability to see in the dark. Netgear knows not everyone has access to mil spec night vision goggles, or the ability to use them, so they've created another solution. Vue Zone is the simple to use remote video monitoring system by Netgear that allows users to keep an eye on things at all times. Easily monitor live video anytime or anywhere via your computer or with your iOS or Android enabled smartphone. And the best part of Netgear's VueZone system is that it offers night vision functionality. With this add-on the Night Vision Camera detects motion and lets you see what's going bump in the night. The system includes an infrared lamp that works in conjunction with the camera to illuminate up to 25 feet and can detect motion up to 15 feet.  Sensor sensitivity can be dialed in to suit your needs and if anything is detected a customized alert will send you either a still image or short video clip of the perp in question.
Locked up tight


As a final line of security it's best to get in the habit of locking away all valuables. This should include everyday items like your keys, jewelry, wallet, and important devices that contain sensitive personal information like your phone, laptops, and tablets. By storing your valuables in an easy-to-use safe you'll not only have the peace of mind knowing they are securely protected, but they will also be neatly organized for convenient access when you need them.
Buying a dedicated safe for this purpose is becoming a popular choice. So, here are the top tips you'll need to know to make an educated decision:
Purchase a safe with a proven lock that is also simple to use. The easier it is to operate the more likely you are to actually use it. Visit the Brown Safe website to learn more about safe lock types.
Consider the safe size. How many items will you be storing and how large are they? Do you want a safe that can fit on a counter top or desk for storage of your most used personal belongins? Or maybe a larger safe that fits in a cabinet or closet that can hold more? High quality safes can be made in sizes ranging from 14″ tall up 60″ or more.
Where will the safe be located? You'll definitely want to place the safe in an accessible location. It's much better to buy a reliable high quality safe that gets used, instead of hiding it away where it's not convenient to access.
There are many different watch safes and jewelry safes made expressly for the secure storage of your valuables. Visit the Brown Safe website to select the right safe for you.