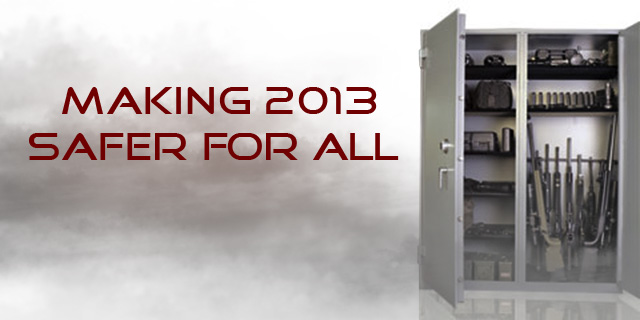 With the new year comes all sorts of resolutions. Generally they involve some sort of penance for all of the gluttony we excuse ourselves of during the holidays, learn a new language, read more, or any other host of well-intentioned ideas that seem excellent for all of about two weeks. In fact the failed high hopes we set for ourselves can be a bit disheartening. However, what the new year does bring is a sense of renewed optimism, the feeling that we CAN and WILL do better. So this year resolve to make 2013 safer for all that you cherish most.
2012 has come and gone, along with the Mayan faux-pocalypse and other doomsday scenarios, but 2012 was a year of unspeakable tragedies. If there is anything that we learned from this past year its that the world is increasingly hostile and unfortunately there's little that outside entities or legislation can do, so we must do everything in our own power to be prepared and make 2013 safer.
Here at the Brown Safe Research Labs we are committed to security at all levels. Our aim is to find innovative solutions and share our findings to help others. We'll be exploring these ideas along with tactics, gear, and various methods in the coming year, but here are a few tips to kick 2013 off.
Begin with the brain:
You can take all the self-defense classes you want, be a black-belt, or the biggest dude on the block, but none of it means a thing unless you utilize your most important weapon – your head. Being mindful of your surroundings at all times so as to avoid potentially harmful situations before they arise is by far the most effective form of self defense. A quick mind is easily the most effective weapon in your arsenal when put into a dangerous situation. Remember to pay attention, keep calm, and think, and you'll have a huge advantage over most.
Don't make yourself a target:
Criminals are most likely to prey on those they view as weak. Evil-doers are opportunistic, but not necessarily dumb. Often they will seek out victims whom they believe are under-prepared to give themselves a higher chance of success. Outsmart burglars by being more prepared than they are. Start by setting up a zone of defense in your personal space. Regularly check doors, windows, and other potential points of access into your home. Consider investing in a security system. A monitoring system that will set off an alarm and alert the proper authorities when your home has been broken into can be a huge advantage. Make a plan and discuss with all members of the family the protocol for what to do in the case of a break in. And finally, securely lock away all weapons and valuables to ensure your family and items stay safe.
visit the Brown Safe website for more information on purchasing the right safe for your needs or visit our guide to buying a safe to learn more about the right level of security for you. And check back shortly for more in-depth insights regarding security, tactics, a tools to make 2013 safer for all.