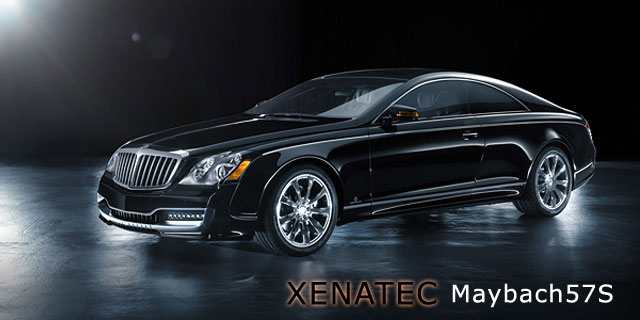 The acclaimed German coachbuilder Xenatec works their engineering magic to rework the Maybach 57S into a super sleek 2-door coupe. This four-seater retains the overall Maybach aesthetic while enhancing its conservative styling to a slightly sportier look. Designed by the same man that brought us the Exelero concept, the Xenatec Maybach 57S shares a similar style. Major body modifications are made to the A, B, and C-Pillars, doors, side panels, front and rear fenders to accomplish the highly customized adaptation. Most notably the B-pillar will move a full 20cm towards the rear of the car to accommodate its updated look along with providing easy entry into the back seats. Entirely new front and rear bumper designs feature centralized fog lights, integrated exhaust, and a unique diffuser; all of which work to enhance the sport aesthetic while the 20 inch or optional 21 inch alloy wheels complete the look.
The sport treatment is carried into the cabin of the redesigned coupe as well. Seating receives an updated sporty shape along with a host of interior details that further enhance its makeover. Included in the redesign is the option to replace the steel roof with an all glass canopy.
Upgrades extend beyond advancing styling and comfort and continue into personal security with the addition of full armored body protection.
The coupe retains its 612-hp 6.0L twin-turbo V12 from the Maybach 57S, which supplies 737 lb-ft of torque. With a top speed of 170 mph the redesigned Maybach is true to its sporty redesign and capable of sprinting from O to 60 mph in 5 seconds.
Maybach's collaborative effort with Xenatec to produce the converted coupe insures the retention of the Maybach VIN number and thus still receives the four-year unlimited mileage warranty and a four-year service & repair package, just like standard Maybach vehicles. However, production of this exclusive Maybach 57S coupe will be limited to only 100 units with a starting price at  $923,440.