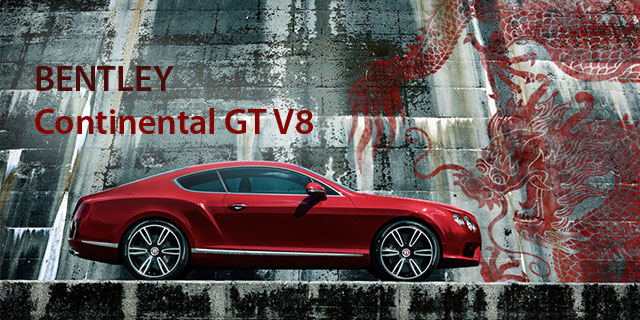 The ultra luxurious British automaker, Bentley, has revised and reinvisoned their most sporting offering for 2013. The Bentley Continental is a an icon of premier luxury performance, and the all new 2013 Bentley Continental GT V8 looks to up the ante.
The overall body shape of the GT maintains its distinctive lines, but receives a more aggressive look with styling ques such as the gloss black mesh grill and lower bumper inserts broken up by jutting stakes. These black features match the dark rear valence that provides the perfect setting for the Continental GT's figure-eight exhaust.  The distinctive close-set headlamps are now ringed in LED lights and lend an elegant modern touch to this this performance car that does an excellent job of balancing modern styling with the companies design heritage.
Distinguishing features of the 2013 Bentley continental GT V8 include a  red enamel winged 'B' badge on the hood, trunk and wheels. The V8 model also receives a newly designed 21″ wheel specially developed by Bentley for the model and gives the Continental an even more dramatic muscular look.
For 2013 Bentley developed a 4.0 V8 engine to power the Continental GT. The new V8 is capable of catapulting the GT for standstill  to 60 mph in 4.6 seconds and a top speed of 188mph. The power is transferred via an impressive 8-speed transmission new for the model year as well. This updated tranny along with the improved V8 account for an overall efficiency gain of 40% for the 2013 Bentley Continental GT V8.
In the cockpit, luxury details abound, and leather, wood, and knurled metal are exquisitely combined for a feel that is both sporty and refined. Choose  from the standard monotone leather surfaces, or select the option to have the interior suited to your personal style with combinations of two-tone, quilted, and perforated leathers.
The 2013 Continental GT V8 by Bentley remains a beautifully crafted performance auto with the premier luxury that few manufactures can match. It may not be the fastest two-door on the market, but it's definitely one of the best looking and most assuredly get you to wherever you need to go in a hurry. And although most individuals who can afford this car aren't too concerned with the rising cost of gas, we appreciate the forward thinking technology and extended range of the new Continental GT's V8 engine and 8-speed transmission. The sleek muscular design, performance, and overall impression has us thinking the new 2013 Bentley Continental GT V8 is firing on all cylinders.