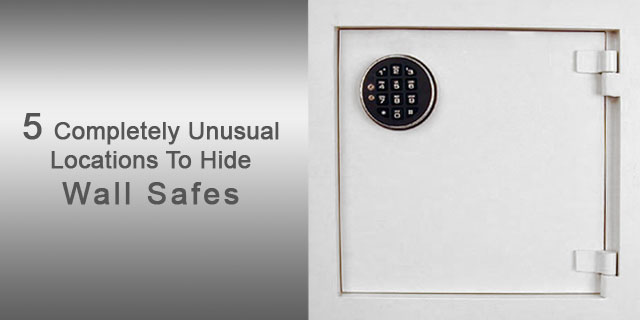 A wall safe is a great way to keep your possessions safe and selecting a sneaky location keeps would-be thieves from discovering you have anything worth hiding. The whole purpose of having a wall safe is so that you can store your valuables and keep them secure. However, the very first thing you have to consider is where you want to hide your safe. You don't want to be so obvious that it would be easy for someone to come straight into your home and find your valuable items. Knowing that you can keep your treasured things inside of a safe will help you remain calm during any kind of life disaster. Plus, wall safes are a great way to store all kinds of items such as family mementos, pictures, important documents and valuable jewelry.
1. One place where some people have hidden their wall safe is actually in the laundry room. For instance, you could put your safe behind a shelf or a drying rack. It is unlikely that a burglar is going to be very focused on looking in the laundry room for your valuable items. In addition, you can buy a fake breaker box panel that could go in front of the wall safe to make it appear as though your electrical panel is in the laundry room.
2. Because a wall safe has a flat surface as a door, it is very simple to hide it behind a large picture or even in the floor under a rug (although we'd suggest a floor safe for this). However, this location is a lot more obvious and you have to keep in mind that many experienced thieves may figure out that they should look behind large artwork and other obvious pieces in your home.
3. A third place where you could potentially hide a wall safe would be behind a very heavy piece of furniture. Of course, you have to make sure that you don't need access to the safe on a regular basis. You could put it behind a large armoire or even an antique piano. The idea here is to make it very difficult for a thief to move the furniture and therefore highly unlikely that they would find your  wall safe.
4. A fourth place that you could hide your wall safe would be behind a bookshelf full of books. For instance, you could set up a mini library on one wall and have your safe behind it. Of course, you wouldn't want to do this if you needed consistent access to your safe. Most people put things in the safe that they don't need access very often, so putting it behind a large set of bookcases filled with books may be a great idea.
5. Finally, another good place to hide your wall safe would be in a child's room. What a burglar is going to take the time to tear apart the nursery or a child's room? Most likely, they are going to be more focused on the master bedroom and other areas of the home where adults would store valuables.
Find out more about wall safes