Who says the best things in life are free?
Money can't buy love…unless you're wealthy! Then you can buy all the hugs and kisses you can possibly want. In fact, even during this period of global economic uncertainty the rich still know how to celebrate the holidays to luxurious excess.
To that end, check out these 20 Over-the-Top Luxury Christmas Presents of the rich. From $900 boxes of chocolate to a $75 million Malibu villa, the rich really know how to put the lux in luxury.
1. $4000 Holiday Cards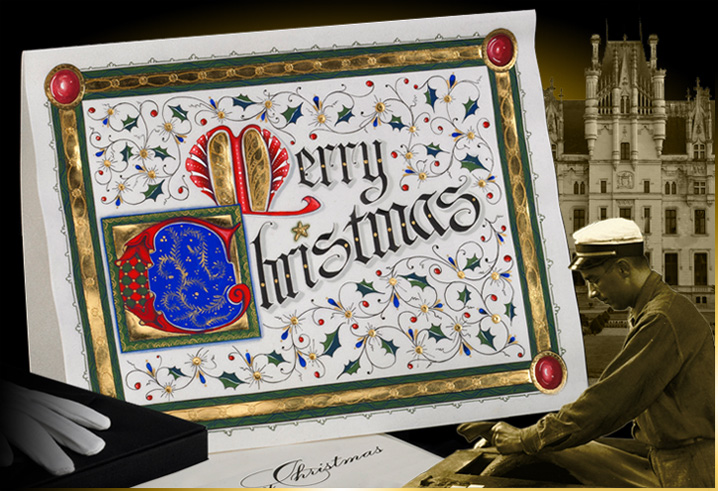 Guilded Age Greetings offers holiday cards that cost more than the average used car! How do they justify the price? Well, for starters each card is handcrafted by artisans. They are then encrusted with precious stones, 23k gold embossment, and refined with palladium application techniques revived from the Renaissance. Their simplest card costs $395.00 and their most opulent runs a cool $4k.
2. $2 Million Monopoly Game
Even rich folks like playing Monopoly when they're not busy buying real-life versions of Boardwalk or Park Place. The board itself is molded and cast out of 18-karat gold and outlined in real diamonds valued at $10,000. Bizarrely, the money is still made out of ordinary paper.
3. iPad Platinum & Swarovski Edition
Everybody and their dog as an iPad but, as common men know, the bourgeoisie don't want what is readily available to the masses. This is one example of taking the common and making it uncommon. Platinum serves as the embellishment and Swarovski stones are used to recreate the Apple logo. Expect to spend somewhere around $3,300 for a wealthiPad of your own.
4. $75 Million Villa in Malibu
If your wealthy loved one is feeling like the Hamptons are sooo 2009, maybe it's time to look at the other coast. This gem of a house is sitting on 8 acres abutting the ocean, and has hand-carved limestone running alongside antique marble throughout. And when the ocean breeze is chilly, you can head into the billiards room, or the wine cellar, or the home theater, or the full gymnasium. And did I mention the pool or the floating entrance to the desert garden?
5. Michel Cluizel's $895 chocolate set
This is what they mean by rich chocolate. I'm not sure what Michel Cluizel's secret is, but it must be a great one for him to charge $895 for a box of his candies. Maybe the ones stuffed with passion-fruit pulp involve a wish-giving genie?
6. Opera $1.2 Million Tourbillon Watch
Manufacture Royale's Opera watch, on the other hand, might be worth the staggering price tag. It's constructed of an 18K gold casing, 3 sapphire crystals and alligator skin straps. A minute repeater rings out an A note on the hour and a C# note on the minute. Oh, and only 12 such watches exist on the face of the planet, can you say exclusive?
7. Rolls Royce Ghost Diva
A Rolls Royce already screams opulence. Add in 24k gold-plating, and you have a car meant only for the Sheiks, moguls and drug dealers of the world. And the gold keeps on going, wrapping around the dashboard, mini-bar and steering wheel. For the record, getting in a fender bender is highly discouraged.
8. 2011 Miffy Gold Calendar
Ginza Tanaka is offering the perfect reminder that time is money. Don't expect to circle your birthday on this 6 kilo sold gold calendar, but I'm sure whoever you gifted this to would remember to return the favor before the year is out. At current Dec. 2010 spot gold prices the Miff calendar has a price tag of $655,765.
9. The World's Most Expensive Tequila Bottle
Behold The Diamond Sterling! A Diamond-encrusted platinum bottle filled with Hacienda La Capilla tequila. If you end up giving this $3.5 million bottle away, you better take a shot yourself. It'll may make some of that buyer's remorse burn away.
10. $75k Miluira Retro Electric Roadster
This is one of those pseudo-classic cars that the wealthy seem to love so much. I's slow (37 mph tops), small (one-seater) and ugly (picture above). But it's "retro" and costs $75K, so I bet the Uncle Scrooge fan on your holiday gift list will love it.
11. Deep Space Fighter Bed and Galaxy Mural
This is the kind of toy Internet millionaires give their kids. For a mere $18K, you can have a custom designed starship bed created, complete with a supporting mural to wrap around the walls. The company behind these Deep Space Fighter beds is called PoshTots, a name that surely fits the bill.
12. Tron Lightcycle Motorcycle
In honor of the just released Tron: Legacy, check out this Tron-inspired working motorcycle. This replica won't take you on the grid but it can get you back and forth to work in sci-fi style. Just wear a helmet and watch out for evil programs out to de-rez you on your daily commute!
13. $150,000 Gold and Diamond Stilettos
If your significant other is into shoes, you can put her on cloud nine with a pair of Eternal Diamond stilettos. Each shoe is crafted from gold then encrusted in over 2,000 diamonds. The price? A mere $70,000…per shoe.
14. Luxurious Edition 10 Headphones
The Ultrasone AG Edition 10 headphones are all about having sumptuous sound, making them perfect for the discerning audiophile on your Christmas list. Only 2,000 will be made, and the craftsmanship will include Ethiopian sheepskin, Titanium, Kevlar, and Zebrano wood. The sound is supposed to be exquisite, as it should be with a $3K price tag. Listening to Pink Floyd's Money as the first song is highly recommended.
15. 24 Karat Gold & Diamond Bicycle
You're looking at spending just shy of $115k to get little Jimmy one of these. There's a reason; the entire thing is plated in 24-carat gold and adorned with 600 Swarovski crystals, not to mention being made completely by hand. If you're getting one make sure to plan ahead for shipping as they're manufactured only by Aurumania, a Denmark-based company.
16. Dodge Tomahawk 300mph Motorcycle
The Dodge Tomahawk is such a cool gift that it sells for more than Dodge asks for it. This V10 suicide machine can blitz up to 300 mph and go from 0 to 60 in a lip-flapping 2.5 seconds. It's the perfect gift to give if you're named as beneficiary on the life insurance policy of a friend or family member. Dodge said they'd sell them at $550K, but two clients couldn't help offering $700K a pop to insure delivery.
17. PrestigeHD Supreme Rose Edition by Stuart Hughes

What happens when you take a normal PrestigeHD television (valued at $1.3 million) and drown it in diamonds and rose gold? A $1 million+ price jump, that's what! PrestigeHD is only selling 3 of these Supreme Rose TVs for the holiday season, so pull out that couch change and place your order now if interested.
18. Steiff Gold Teddy Bear
Steiff teddy bears may look a little neurotic, but don't let that stop you from gifting one. These incredibly rare kiddy tools are valued at $84,000 each and only 125 are believed to be made every year. The price comes from the solid gold mouth and gold hair so if you plan to give these to your kids this year, make sure they have a bodyguard for Mr Sniffles when travelling outdoors!
19. Imperial Majesty by Clive Christian
You are looking at the most expensive perfume in the world. Derived from a mix of sandalwood/jasmine/peach/and bergamot for woman or oranges/cardamom/cedarwood/tonka beans for men; this fragrance is meant to literally make you smell like a million dollars! You can only find a bottle of Clive Christian's Imperial Majesty at Bergdorf Goodman (New York) or Harrods (London)…all for a very economical $260,000+ a bottle.
20. Bugatti Platinum Pen
For the man who already owns a Bugatti, maybe he'll appreciate a Bugatti pen ($15k) for Christmas this year. In terms of craftsmanship, you'll be getting an aluminum base surfaced in a platinum/palladium/silver/nickel mixture. The nib (pen tip) is 18K gold dipped in rhodium for strength. This is the perfect gift for the check writer in your household.